Posted by GNCC/MXSports on Jun 3rd 2022
Rd 8 - Parts Unlimited Mason-Dixon
Mathews Farm - Mount Morris, PA
Est: 2018
Admission:
$35 Adult (12+) Thurs - Sun
$25 Adult (12+) Fri - Sun
$10 Kids (6-11) Thurs/Fri - Sun
5 & under free
Special Information:
This is a Specialized Turbo eMTB GNCC National Championship Round.
ePeeWee Racing: Saturday, June 4 @ 6:00 p.m.
7th Annual Mowgli Memorial Dog Show presented by the GNCC Kennel Club.
• Date & Time: Saturday, June 4 @ 8 p.m.
• Classes: XC1 - 100lb+
XC2 - 50-99lb
XC3 - 15-49lb
Micro - 1-15lb
Novice - 0< 1yr
Masters - 7 yr+
• Judged On: Appearance, Agility (performance, obstacles), Attire (costumes).
Hayfields are PRIVATE PROPERTY. Please stay out of the hayfields, if you are caught in the hayfields riders will be disqualified.
There is NO FISHING permitted at this event.
GNCC Racing continues at Mathews Farm in Mount Morris, PA for the Mason-Dixon GNCC. This facility is located across the street from the iconic High Point Raceway, home of the High Point Pro Motocross National since 1977.
Since the last Mathews Farm event, the land has not hosted any sort of racing event and the woods are back to a virgin state. This means that possibilities are nearly endless in terms of what types of trails you will encounter on the course. This area of southern Pennsylvania is not overly rocky so don't expect much rock. However, the rolling hills of the area can make for some fun hillclimbs. As usual, we want to incorporate a mix of open trail, tight single track trail, and some fun flowing trail into the Mathews Farm course, and this facility gives a lot of opportunity for some fun grass track sections as well.
There's no doubt that this event has the potential to become a popular addition to the GNCC schedule amongst riders and fans alike!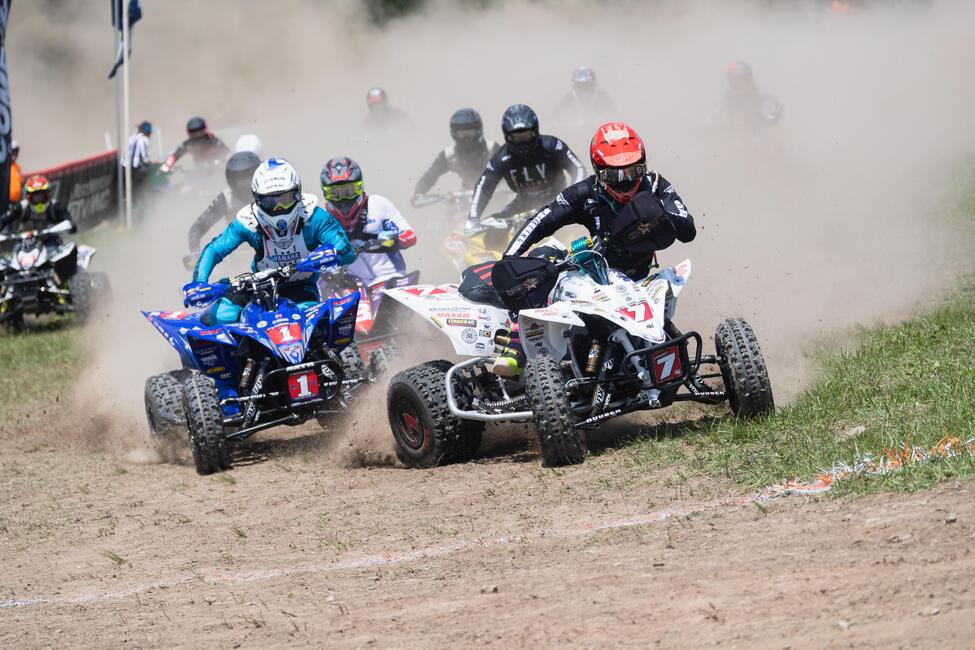 Our Favorite Dining Opportunities:
Oliverio's52 Clay St, Morgantown, WV 26505
(304) 296-2565
Known as one of West Virginia's most respected restaurants for fine Italian cuisine and top notch service, Oliverio's on The Wharf, established in 2001, is located in Morgantown's newly renovated Wharf District. The tuscan inspired eatery, with it's big city feel and small town charm is within walking distance from area hotels and downtown.
Black Bear Burritos (2 locations)
132 Pleasant Street, Morgantown, WV (Downtown); 304-296-8696
3119 University Ave, Morgantown, WV (Evansdale); 304-777-4867
With a menu ranging from burritos, to wraps, chili and much more, Black Bear is one of the most popular restaurants in Morgantown. It's so popular that they even have 2 locations in Morgantown!
Iron Horse Tavern (2 locations)
140 High Street, Morgantown, WV (Downtown); (304) 296-6230
525 Granville Square, Morgantown, WV (University Town Centre; (304) 451-1330
Morgantown's Iron Horse Tavern hosts a variety of menu items ranging from burgers, pasta, steak, seafood and more. Located near the heart of downtown, the Iron Horse is definitely a must-stop for anyone.
CALL TO SEE IF THEY ARE OPEN BEFORE GOING
Two Rivers Restaurant (Campground & Marina)
Dilliner, PA 15327
(724) 943-3745
Good food for a good price. There are two sides to the restaurant-one has a bar atmosphere and the other a more formal dining room.